Reactions as Tilapia post picture with caption 'yete sika so but still begging for alms'.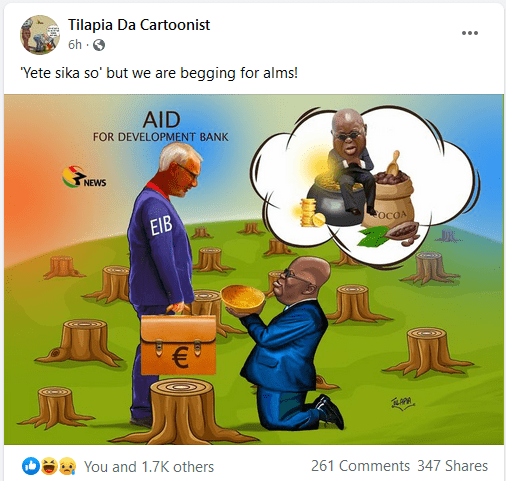 The then Presidential candidate for the New Patriotic Party (NPP), Nana Addo Dankwa Akufo-Addo told Ghanaians on live TV that "Ghanaians are sitting on money but still hungry". He went further ahead to explain that we have gold, diamond, timber, and many natural resources that any government needs to develop the country but because of bad leadership, Ghanaians are suffering.
Nana Addo Dankwa Akufo-Addo and his associates made Ghanaians understand that they do not need loans and foreign aids to develop this country. They seriously criticized John Dramani Mahama's administration for poor management of the economy. The NPP also accused the Mahama administration of burrowing too much.
Nana Addo Dankwa Akufo-Addo when the 2016 election was very close took to his official Twitter account with this message "God did not create us on this land to be poor. It is bad leadership that has made us poor". These messages from Nana Addo and his associates gave Ghanaians hope for the future. In view of that, President Nana Addo Dankwa Akufo-Addo saw a huge marginal vote in the 2016 elections.
It appears President Nana Addo Dankwa Akufo-Addo and associates are doing quite opposite of what they promised Ghanaians in 2016 in terms of burrowing. The Ghana Beyond Aids agenda promised seems to be diminishing in their governance as they continue to burrow beyond the standing of Ghanaians.
It is upon these flashback statements that propelled 'Tilapia the Cartoonist' to used his official Facebook page to remind the government of his promise made to Ghanaians in 2016. Tilapia said 'Yete Sika So But Still Begging For Alms'.
Check out comments from some Ghanaians: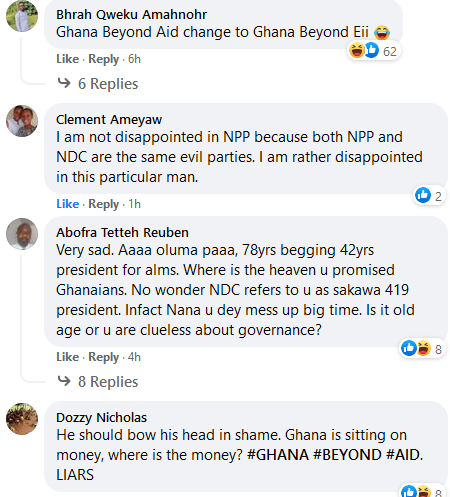 A Facebook user known as Kwaku Amanor reacted that "Ghana Beyond Aid change to Ghana Beyond Eii"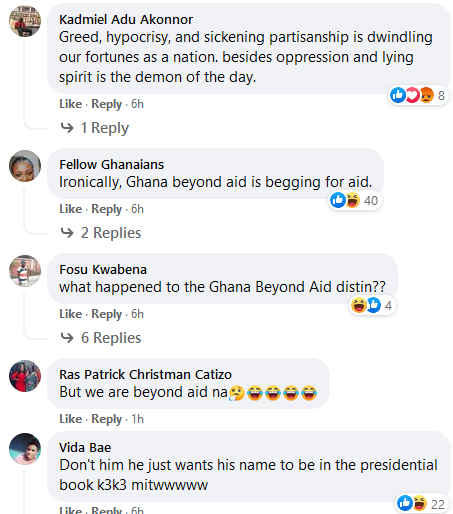 Another Facebook user known as Fellow Ghanaians said that "Ironically, Ghana beyond aid is begging for aid".