Dear Paul, I'm innocent: Dr. Ayine brilliantly reacts to the $170m judgment debt saga.
Former Deputy Attorney General, Dr. Dominic Ayine has brilliantly reacted to the ongoing $170M judgment debt brouhaha. He told Paul Adom Otchere through a text message on the Good Evening Ghana Program that he is innocent and has nothing to do with the matter at hand.
His law firm, Ayine, and Felli is accused of leading the Ghana Partners of the Ghana Power Generation Company (GPGC), which is at the center of the judgment Debt saga to go through registration to enable them to work in Ghana. The address on the company's letterhead connects to the law firm of Dr. Dominic Ayine who was the Deputy Attorney General at the time. The name of Dr. Ayine has been mentioned in the entire saga because of his position at the time.
He might have obviously had a knowledge of how the entire contract was signed. But that cannot be established, for now, so let's deal with the involvement of his Law firm in the registration of the Ghanaian partners of the company. The Law firm of Dr. Ayine came into the picture during the initial stages of the establishment of the company. One of his lawyers, known as Abdul Basit Bamba was contacted to provide legal assistance on how the company can be registered. Basit Bamba in the process used the address of Ayine and Felli for the purposes of the registration.
"Good Evening Paul, I don't have any interest in the company. One of the lawyers who was working in my firm was approached by the Ghanaian partners of the Company to assist them with legal work.
Basit, who is a lawyer gave them our office address for the purposes of the registration". Dr. Ayine indicated to Paul Adom Otchere.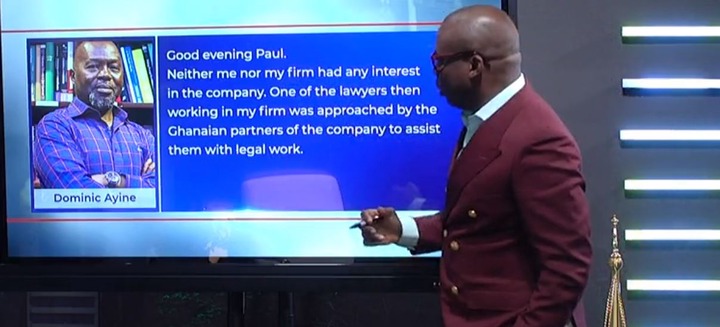 But Basit Bamba after a few weeks of registering the company left Dr. Ayine's law firm and commenced his practice. "Basit left the firm, a few weeks into his relationship with the Ghana Partners of the Company, and set up his law practice and continued to work with them. I doctor Ayine had nothing or so ever to do with, and never met anyone connected to the company. Dr. Ayine responded".

With this response, it shows that Dr. Dominic Ayine never interacted with officials of the company in his law firm and during the registration process but the same cannot be said about his office as the Deputy Attorney General since he is silent on that. The entire $170M Judgment Debt saga has just begun and we will continue to explore all the angles to the fullest conclusion.