"He has always been sleeping on the job"- Ghanaians to Franklin Cudjoe.
The President of IMANI Ghana, Franklin Cudjoe has stated that it is "Mind-boggling foolhardiness and over pampered ego responsible for the needless loss of $170m in judgement debt. Sadly, it is public money", and Ghanaians have reacted massively to his message and informed him that attorney general, Godfred Dame has been "hyped" too much and they have seen that he has always been sleeping on the job.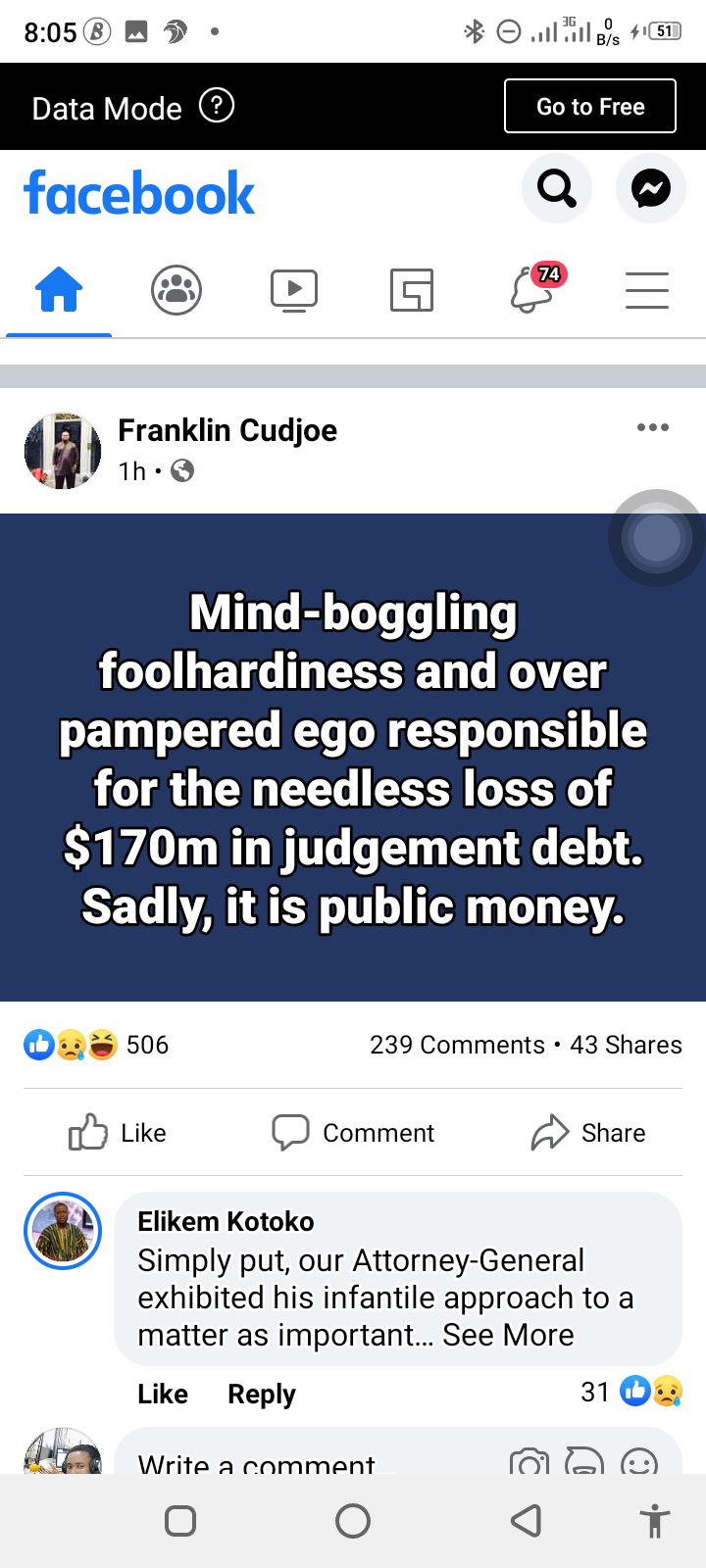 Ghanaians told Franklin Cudjoe that attorney general is responsible for the huge debt just incurred by the country, and said Godfred Dame thought that "speaking good English" and "knowing the judges" is everything. According to Ghanaians, outside the country, substance matters more than knowing the judges in court and said this case has exposed him.
"$170m is equivalent to GHC977m. The money is big oooo. My tax, your tax, our tax. I thought we go chasing for €170m to setup some development bank?" Someone stated.
Another Ghanaian said: Hypeman Godfred Dame is responsible. Go to London and speak your English. Ghana is where we mostly allow hype become success. Over there substance matters. You think your 'as a matter of fact, as a matter of fact' English will have impact there?
Someone stated that: This is yenkye3 ndi. Simple rule: Be negligent, lose the case on purpose, pay the judgment and take your percentage back door. There is no logic to explain the abrogation of contract, failure to file response to the UK courts and inability to represent the country in court. Plan simple, this is yenkye3 ndi.
Someone sadly said that: Sad thing is those involved will not be prosecuted and jailed for causing this loss to the state by the government. Another government will come into power and hold Mr Nobody accountable. Best thing for anyone to do on these shores is to get the hell out of this hellhole of a country, pronto! Time to cut and run!!