Shots fired: Charlotte Osei points to karma as vaccine scandal embarrasses government.
Former boss of Ghana's Electoral Commission, Charlotte Osei has seized the opportunity offered by the ongoing embarrassing Sputnik V vaccines scandal to throw a deadly shade at the Akufo Addo administration. She points to karma, as being what has visited Akufo Addo, Kweku Agyemang Manu, Ken Ofori Atta and the entire New Patriotic Party (NPP).
The ousted former EC chairperson threw the subtle shot on her Twitter handle, ostensibly to tell Ghanaians that, Karma has visited the government.
Karma is a female dog, some say. This is because, it moves around, taste and test every human without regard to your status, and does so according to one's previous or past deeds. Often times, it visits with a vengeance.
Readers would recall that, Charlotte Osei was dismissed by this current government in a grand, orchestrated move. Her offence, an artificial one at that, was found to a breach of procurement regulations. In her case, Charlotte Osei had not caused any financial lost to the state, neither was she found to have entered into any corrupt activity. Her sin was that, she had sidestepped a procurement procedure, something which was redeemable.
But, it was not too surprising, as her dismissal was planned long ago even before the NPP came to power.
Fast-forward to 2021, this same government is finding it difficult to fire a Health minister who has not only flouted a procurement rules, but also ignored every laid down regulations in the public financial management act.
The interesting part is that, this time, there is a domino effect that will come when the same measure taken against Charlotte is applied here. The Health minister, the finance minister and Cabinet is liable in this infantile and reckless management of the public purse. This, many have concluded, as the reason why President Akufo-Addo is unable to sack the Health minister.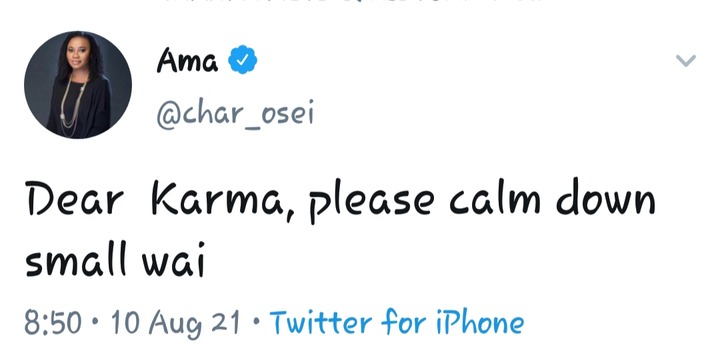 For Charlotte Osei, she wants us to know that, the stick that was used to beat 'Takyi', which is now ready to be used for 'Baah' is being hidden in the Jubilee house (An Akan proverb). In her short sentence on this matter, Charlotte pitied the people at the helm of affairs. She pleads with Karma to slow down on them.
"Dear Karma" she saluted.
"Please calm down, small wai". She added.