Stop Paying Mahama Monthly-COYAG Petitions President Nana Addo And Finance Minister.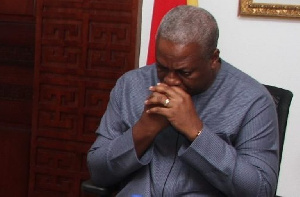 The Coalition Of Youth Arise Ghana is calling on the Government of Ghana to stop paying the former President John Dramani Mahamma after he has been captured using our tax payers money to womanized our feature wife's.
In a press conference today ,the Executive Director of Coalition Of Youth Arise Ghana COYAG Mr. Richard Nana Boakye Mensah said, most of the youth in Ghana are unemployed and some need thousand Ghana cedis to start a business, these people also pay tax unfortunately we are using these tax payers money to sponsor Ex president Mahamma to chase young girls.
He said we can't eat our cake and have it therefore petition the finance minister , parliamentarian and president Nana Addo to stop paying ex president Mahamma.
He urged the youths in Ghana to arise against whoever make an attempt to disturbelized against our future. "Eating the flesh and left with dry bones" said Ex president Mahamma and we the youth can't afford to lose our monies and future wife's to president Mahamma and Co.
We can't marry anymore, our girlfriends are leaving us others are committing suicide.
We are pleading with the government to used money wasting on former president Mahama to pay the defunct Banks.