Fake UN Ambassador and international diplomat nabbed.
In a Facebook Post by one Annetto Herrmann-Condobrey wrote that,
"FRAUDSTER ATTA MENSAH IS NOW PROFESSOR CUM AMBASSADOR JOHN VINZELTS.
While the Ghanaian press went to sleep, Fraudster ATTA MENSAH, the high school graduate who falsely presented himself to Ghanaians in 2014 as a rocket scientist and Nobel Laureate-best known at the time as a con artist and an imposter-has metamorphosed into PROFESSOR cum AMBASSADOR JOHN VINZELTS: "UN" ambassador, pioneer, country head and high commissioner of a United Nations "look-alike" organization, founder of a university, vice chancellor, lecturer at "Kofi Annan Youth University, climate environmentalist, peace activist, human rights advocate, science and tech innovator, founder of a tech and science innovations research center, author of several books and more."
A quick search online indicateD that, he has a tall inspiring fake profile, as it states that, John Vinzelts, is a Senior Diplomat and the High Commissioner of the World Diplomatic Organization (WDO). He was the Former Country Representative of United Nations Youth Ghana, a Youth-Led charity organization which he led in Ghana until July 2019. John Vinzelts has been working for the United Nation Youth organization on Aid management, programme development and planning, monitoring, on quality assurance, reporting, evaluations, appraisals and reviews. He conducts research and analysis on youth and provides information to governments, Youth, civil society organizations and other parts of the United Nations system on issues and activities relating to youth development programme.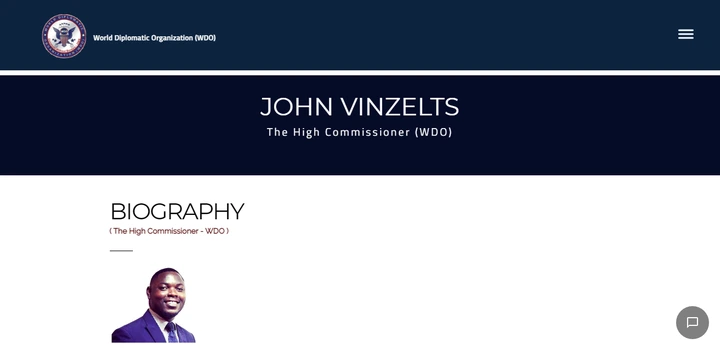 He was overseeing all the managerial affairs and administration of UN Youth organization in Ghana, including programs and strategic plans of the organization. His key roles and duties also included fundraising, marketing, and community outreach, working closely with several other international Organizations in Ghana and abroad. John also has been in charge of implementation of UN Youth Ghana's programs that carry out the Organization's mission. He has been also responsible for the strategic planning to ensure that UN Youth Ghana can successfully fulfill its mission into the future. he enhanced the image of UN Youth by being active and visible as an SDGs Ambassador in various capacities and by working closely with other professionals, civic and International Organizations.
According to him, he is the country head of UN Youth Ghana and the bio of the group reads that: The UN Youth Ghana was founded in accordance with the Resolution 2250 of the United Nations act which was unanimously adopted on the December 5, 2015 on Youth, Peace and Security, which recognized the voice of the Youth and their participation in decision making at all levels.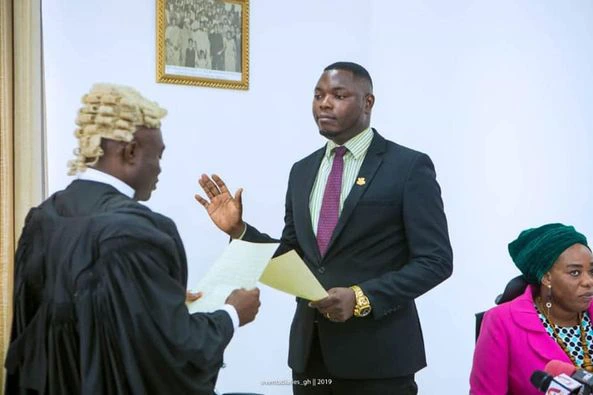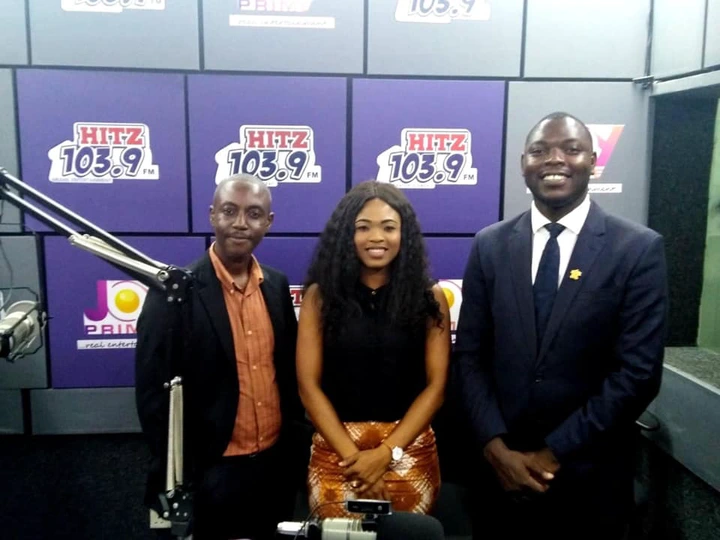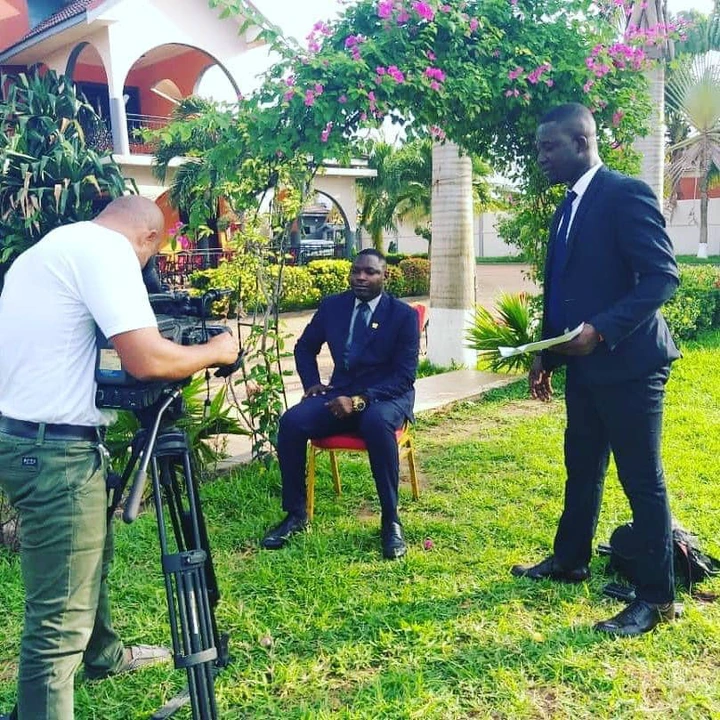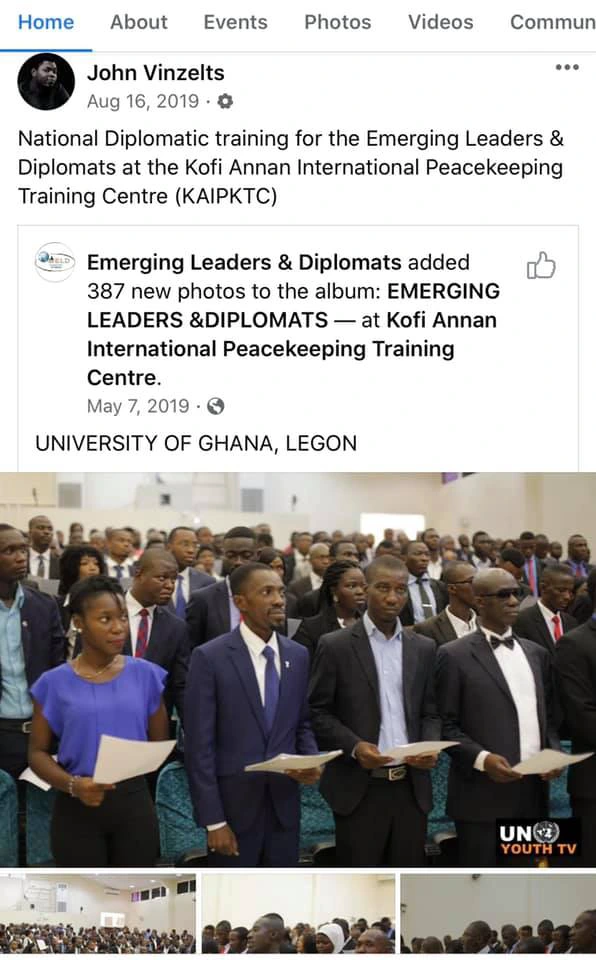 From the description of Youth from United Nations perspective with a global population of over 1.8 billion people, youth are the world's greatest untapped resource, possessing the talents and ambition to overcome society's biggest challenges. In order to achieve the 2030 Agenda, it is imperative to engage youth as beneficiaries, stakeholders, and leaders in the global movement for inclusive and sustainable development.
But interestingly, a disclaimer from the Ghana UN Office denies any association with this group. "The United Nations in Ghana has observed with growing concern the use of the United Nations brand, emblem and logo by some groups and associations in the country purporting to be associated with the United Nations. Reference in this Disclaimer is made to the group called 'UN Youth Ghana'. the disclaimer read.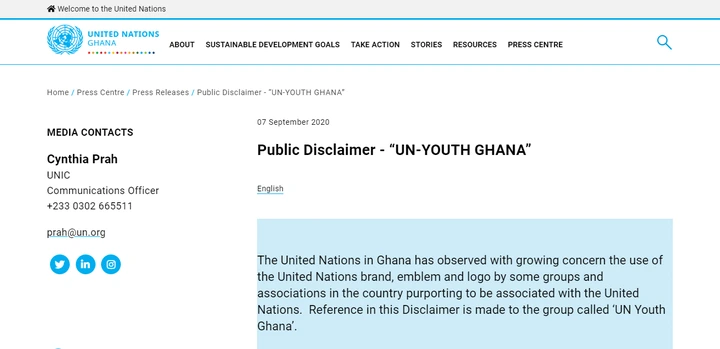 View pictures in App save up to 80% data.
Adding that, The United Nations in Ghana wishes to inform the general public that the UN has no affiliation with 'UN Youth Ghana' and advises the public that any engagement with this group does not have the endorsement or support of the United Nations. We also use this opportunity to request that group to refrain from using the UN brand, emblem and logo without authorization. The United Nations in Ghana hereby notes that the use of the United Nations emblem and logo by non-United Nations entities is restricted and can only be applied after due authorization. Non-UN entities are advised to request a written authorization from the United Nations Office of Legal Affairs (https://legal.un.org/ola/).
Official rules governing the use of the UN emblem on publications and other products are included in the following Administrative Instructions: ST/AI/189/Add.2, STAI/189/ Add.2/Amend. 1, and ST/AI/189/Add. 21 and ST/AI/189/Add. 21/Amend. 1, section V. We advise the general public to ensure due diligence in engaging with groups using the UN brand, emblem and logo by accessing genuine UN-related information from the relevant UN agencies' websites or from the UN Ghana website (https://ghana.un.org/en). The UN in Ghana remains committed to working with the Government of Ghana and its people to deliver on its mandate to achieve the Sustainable Development Goals and support Ghana attain its development objectives.
But this group had just some few weeks earlier, through John Vinzelts, Founder & Country head of UN Youth Ghana sworn in 17 new directors which was held at the Ministry of Foreign Affairs & Regional Integration in Accra, Ghana, on 20th February 2019, where the United Nation Youth Ghana officially mandated it executives to steer the affairs of the organization for the years ahead.