How Ewes' Icon became Ghana's first Female Lawyer & Judge.
She quadrupled as as a Judge of the Circuit Court (from 1959 to 1961), High Court of Justice Judge (from 1961 to 1969), Judge of the Court of Appeal (from 1969 to 1980), as well as the President of the Court of Appeal of Ghana (from 1980 to 1983).
She was an indigene of the Ewe Ethnic Group of Southwestern Ghana and Togo. Reliable reports indicate that Annie Ruth Baeta Jiagge was born on October 7, 1918 to to Robert Domingo Baeta and Henrietta Baeta in Togo, Lome to be specific.
She commenced her active educational journey at Achimota College, and by 1937, she had already earned her Teacher's Certificate.
She climbed so fast in the teaching Profession, and between 1940 and 1946, she served as a teacher and Headmistress at the Evangelical Presbyterian Girls' School. However, in 1940, something very unfortunate happened: the school, which was close to the coastal area, was washed away by the ocean. This compelled the management of the school to move all the girls to join the boys at the Evangelical Presbyterian Boys' School.
When her school collapsed, she developed a very lucrative plan, by turning it into a drama group, upon further discussion with the Anglican Church. Her reason for coming up with idea was to raise enough funds to rebuild the Girls' School because the joint school was overcrowded, as the population increased.
After winning several performances in key cities in the Gold Coast and Togo, she was able to gather enough funds, from many sources to bring the school back live again in 1945.
While she developed so much love and passion for the teaching Profession, she was also very conscious of her personal and professional development. She then decided to write the London Matriculation Examination in that same, and luckily for her, she passed. This really motivated her to travel and study in the United Kingdom. Her mum, impressed by her performance, secured a loan for her to continue her studies in London. A year later, she gained admission to study LLB at the London School of Economics and Political Science. Women in law at that time were so scarce, hence, she decided to set a better pace for all women in the world, and in the Gold Coast, particularly.
However, Annie's dream was nearly curtailed by her own learned colleagues from her motherland, who were also students of the school. They boldly told her that law was laborious for a woman like her so she should abandon it, and study Fashion Design instead. Though she was in a dilemma during that trying moment of her life, she never heeded to their advice. She instead, persevered and pressed on, until victory was hers. She emphatically said: "I would return to the Gold Coast if I don't pass my first examination rather than studying Fashion Design."
She indeed passed her first examination, and in 1949, she graduated with LLB. In 1950, she was called to the Bar at the Lincoln's Inn in the United Kingdom. When she returned to Ghana, she was awarded an Honorary Law Degree by the University of Ghana, Legon in 1974. Prior to that, she was honoured with two top awards in 1969: The Grand Medal of Ghana and The Gimbles International Award.
Formerly House 17 of Achimota School was named after her, in recognition of her excellent works as a pacesetter in Ghanaian Legal Profession.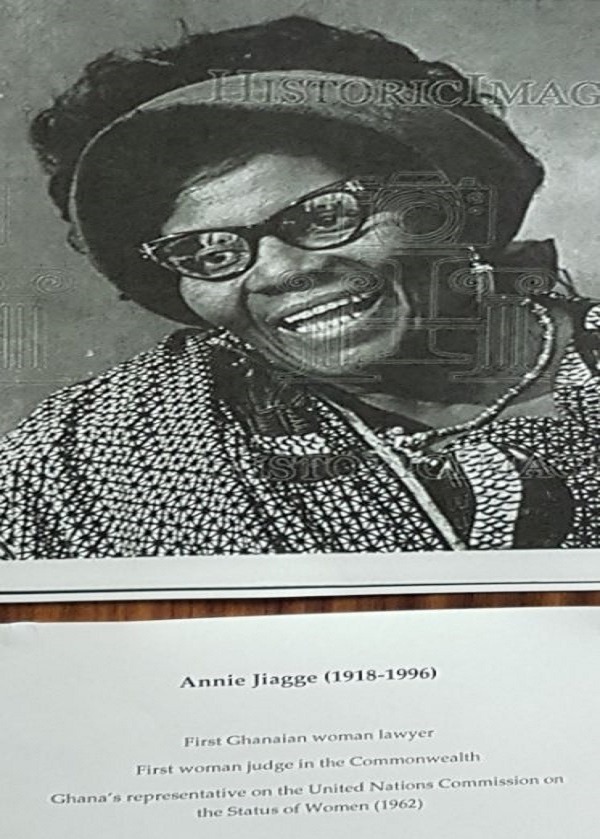 Annie holds the record as the First Judge of Appeal Court of Ghana, as well as the county's First Lawyer and First Judge. She was also the brain behind the drafting of the Declaration on Elimination of Discrimination Against Women; a document she and her team prepared in a single night.
She was also the one who chaired the Commission to Investigate the Assets of Senior Public Servants and Named Political Leaders in 1966.
Annie Jiagge further served as the county's Council of State, from 1993 until her demise on June 12, 1996 in Accra, Ghana.