Nana Agradaa has finally confessed her sins?
It seems Nana Agradaa has already confessed her sins to the authorities. She is said to have admitted to committing illegalities and using her television space for money rituals.
The troubles of Ghanaian self-styled priestess, Patience Asiedu who is also known as Nana Agradaa begun after some teenagers murdered their friend at Kasoa for money rituals.
Right after the incident, most Ghanaians started calling on the Ministry for Communication and the National Communications Authority to raid the country's television space of fetish priests and money doubling syndicates.
On Tuesday, April 20, 2021, Nana Agradaa was arrested and some of the equipment in her two television stations were also seized.
She has been accused of operating Ice and Thunder Television without a license. It is believed that Nana Agradaa was running her transmission illegally.
Nana Agradaa is also facing accusations of promoting her personal god known as 'Sika Gari' that multiplies money for her victims. Nana Agradaa is reported to have confessed to being guilty.
"Nana Agradaa has admitted to all the illegalities and she is currently assisting the police with further investigations". Communications Minister, Ursula Owusu noted on her Facebook wall.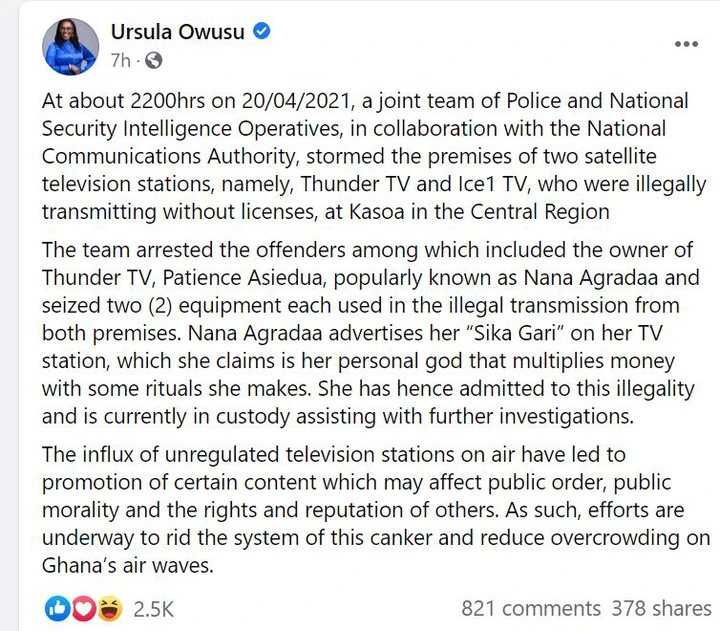 With her confession as has been stated by the minister, Nana Agradaa has conceded to indulging in illegality and propagating unacceptable content on her television stations.
She is likely to lose all her transmission rights and also face the laws of the country. Soon after news of her arrest was announced, a cross-section of Ghanaians started jubilating with some accusing Nana Agradaa of duping them.
The Ministry of Communication and the National Communication Authority have served notice to all television stations operating without a license in Ghana to prepare for a showdown.
Over forty of the television stations have been listed for closure.
It is believed that when sanity is brought into the television space, the issue of money rituals that is gradually gaining root in the country will reduce drastically.
Teenagers who receive their inspiration to venture into money rituals from those television stations will be forced to go through the processes of life.
In the meantime, let's all join hands to curb the open money ritual promotions on our televisions.