"Never again shall we go through such deceitful leadership"- Ghanaians to A-Plus.
Ghanaians have totally disagree with President Nana Addo Dankwa Akufo-Addo for letting school children to meet him on his tour as he is touring part of the country this week to visit places and check on projects ongoing in the country.
Ghanaians are circulating pictures of SHS student standing at roadside in numbers cheering and welcoming president Nana Akufo-Addo and A-Plus has questioned the police officers about it including the IGP of Ghana.
A-Plus stated on his social media wall that "but police won't allow people to demonstrate. IGP did this happen in heaven?" And Ghanaians has reacted massively to his message informing him that never again shall they go through such a deceitful leadership in the country.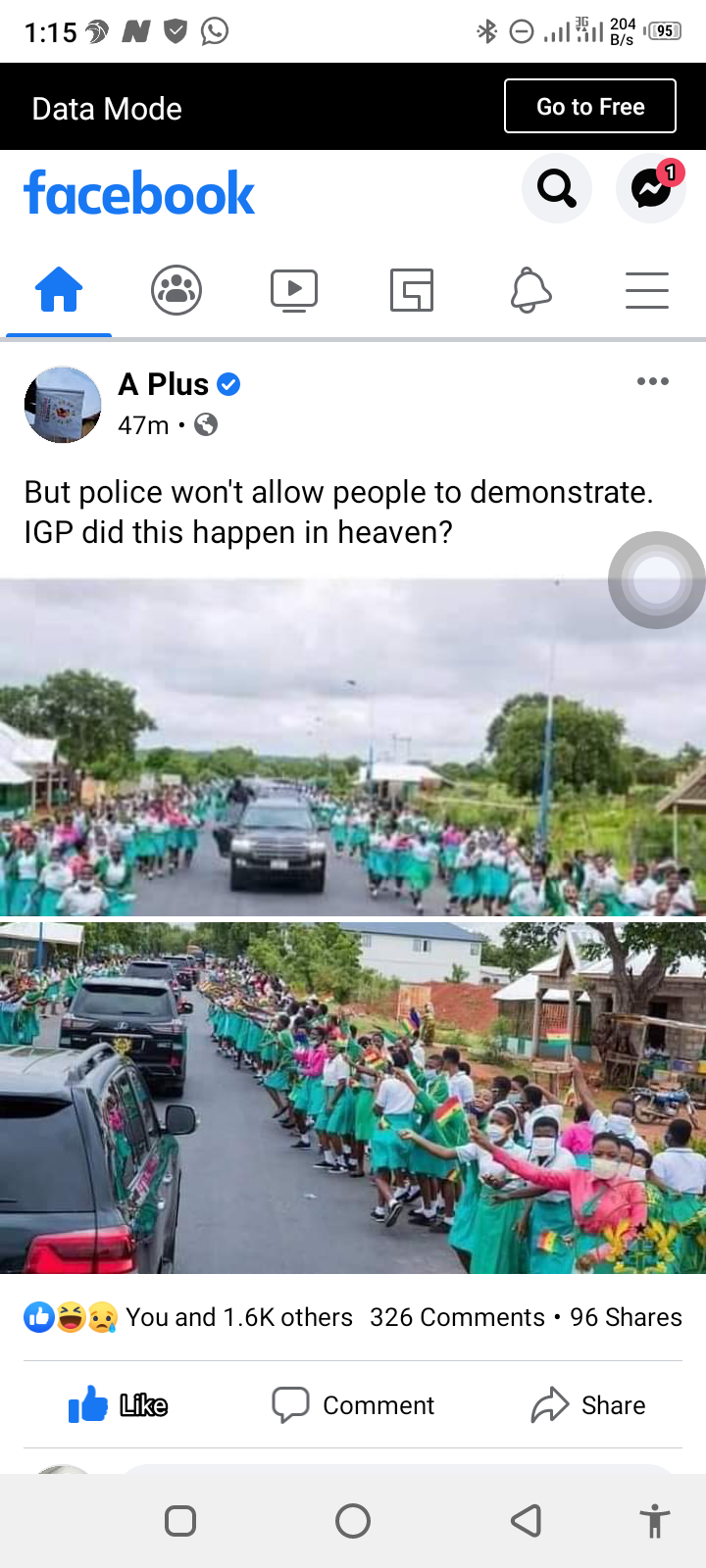 A lot of Ghanaians believes that the NPP government led by President Nana Akufo-Addo is not respecting the laws in the country and its amazed them that when ever someone goes against the same law, that person is being punished severely and because of that they expect the president to act in the right direction.
Fixthecountry Movement was denied to demonstrate in the country and Ghana police explained that if they allowed them to demonstrate, they will spread covid-19 disease in the country despite they will follow the guidelines giving.
Ghanaians who reacted to A-Plus message are not happy about president Nana Akufo-Addo on how he is currently handling them based on covid-19 protocol he is breaching across the country.
Someone said: Good score! A time cometh when the police and the military can never stop the youth from displaying their displeasures. They (military and police) shall see the results of hypocrisy.
Some jabbed that: The hypocrisy of this administration is nauseating to say the least. Never again should we go through such a deceitful leadership.
"The president doesn't care if we insult him or not, he has made his mind to mafia us paaaaa. After all, this is his last term in office and he doesn't care what we say about him. This country hmmmm" someone advises Ghanaians with reasons why Nana Akufo-Addo is "behaving" in a strange manner towards them.
Another person told Ghanaians that: Our leaders will continue to fool us because we always support their stupidities, if we don't come together as Ghanaians everyday both NPP and NDC will come and go but ordinary Ghanaian life will be the same.
"The current IGP have good opportunity to perform better if only he can stand on his grounds against political interference, because he is not being bashed negatively by the media but he has also allowed himself to be controlled by this half baked ruling party/appointed authorities like his predecessor Asante Appietu who performed abysmally, and I think the current IGP is also going to fall into the same trash" someone sends strong message to IGP.
Another Ghanaian stated that: Very soon the youth of Ghana will rise up against dictatorship, hypocrisy, greed, insensitivity and all the other evils of Ghanaian leaders, and they'll have no place to hide. We must arise and kick these baldheads out of power. A revolution is imminent in Ghana.
"The man experienced every government since independence both civilian and military, yet look at his governance. Some people just can't govern. So when you force them, they will mess up. That's what we are experiencing" someone said but was very surprised at Nana Akufo-Addo's performance in office.